Click on any of the Links below to check out more great racing, locally and nationally.

Big West Racing is the leader in regional motor-sports news and coverage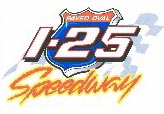 I-25 Speedway Southern Colorado's home for Family Racing fun!

Matlock Racing is the home of 2003 figure eight rookie of the year, Joe Matlock

www.findracers.com is a very cool place to just dig in to, they have some great member sites, a good place to surf!

Father and Son Racing is the home for news and stories on David and Anthony Martinez, who both race at CNS and I-25 Speedway