The "Mad Mexican" takes it to em in Pueblo 7/31/04

Daniel Martinez wins again at I-25 Speedway in Pueblo Colorado

"It was a good race, I knew going into the night the #42 would be strong, we work hard on the car and it pays off, beating these guys just makes it so much better, all the cars in the Regional Series are so strong, this will be a win I will remember for a long time" said Daniel in a post race interview. This win gets him back to 4th in points and ready to rock-n-roll

The "Mad Mexican" hits the dirt!

Daniel Martinez and crew were frustrated with rain outs and no racing to be had. So they strapped on some dirt tires and Daniel made his first ever oval race and his first ever dirt race all in one. "Daniel did not do bad, there were some class cars that did not even make the "A" Main and he did, I thought being an asphalt racer the dirt guys would have him marked, but they drove him clean like he did them" noted RMNS announcer and family member Chris Martinez. RMNS hopes to see the Mad Mexican return for some more fun in the dirt.
Daniel Martinez would like to welcome you to Mad Mexican Racing
The Mad Mexican Racing web site is all about racing with no fear, Figure Eight style
Daniel races at I-25 Speedway and Colorado National Speedway
Daniel will also be in the Colorado Regional Figure Eight Championship Series in 2004
Daniel Martinez was the only one of the many racing Martinez' to show up and he had a pretty good night winning his heat race and getting 6th in the main.
After 1 night of action Daniel sits 6th in points in the regional standings.
UPDATE**UPDATE Daniel won his first figure 8 main event on Saturday 5/15/04 and is currently 4th in points. Monday night Daniel was on the Fastax radio show and talked about his great win! Good Job Daniel.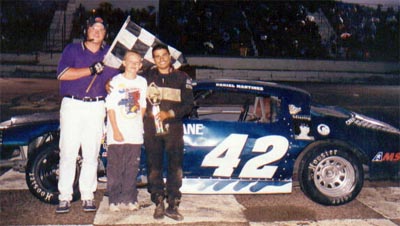 Some of the photos provided by "Photo" Joe Starr
Mad Mexican Racing Web Site is built and maintained by